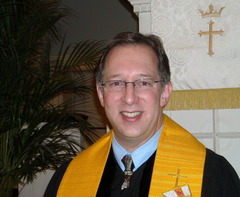 Carmel extends a warm welcome to Rev. Peter Sulyok, our Transitional/Interim Pastor. He and his family are arriving after April 22 as they move here from Long Island.  Pastor Peter will be participating in our online worship by early May as he completes the exhausting process of moving.
The selection of Rev. Sulyok as Carmel's Transitional/Interim Pastor and Head of Staff was announced to the congregation in mid-March.  Rev. Sulyok, or Pastor Peter, has just completed nine years as pastor/head of staff at Bridgehampton Presbyterian Church on the eastern tip of Long Island.  He also brings experience as a pastor/head of staff in Binghamton, NY and as an interim pastor on Long Island and in New Jersey.  His additional experience includes serving as Moderator of the Presbytery of Long Island and serving PC(USA) for 12 years as Associate and Coordinator for the Advisory Committee on Social Witness Policy for the General Assembly Council.
Rev. Sulyok's family includes his wife, Rev. Jeannine Frenzel and son Mark Frenzel-Sulyok.  They join daughter Lydia and son Jared, daughter-in-law and first grandchild, who already live in the Philadelphia area. Rev. Sulyok is looking forward with anticipation to his time at Carmel and to being closer to his family and granddaughter.