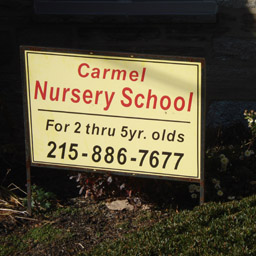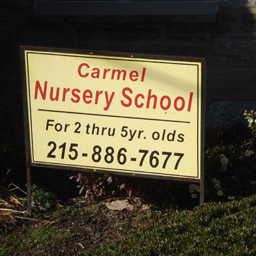 Carmel Nursery School, established in 1961, is licensed by the Pennsylvania Department of Education, and complies with all of the standards put forth by the Department of Private Academic Schools.  Its operation is governed by a volunteer Board of Directors, Director, and teaching staff. The Nursery School is independent and co-educational and does not discriminate according to sex, race, creed or national origins.  It is a non-profit organization.
Carmel Nursery School is a child-centered learning facility.  Each class is taught by at least one degreed teacher. All classes have a lead teacher and an aide. Our staff of qualified professionals strives to provide a warm, caring atmosphere. Children learn how to function within a group while special attention is paid to individual needs.
Daily classroom activities include learning centers, music, art, math, and reading readiness activities, literature experiences, and science and history lessons.  Periods of active play are alternated with learning experiences.
Children age two through five are eligible to enroll. The Nursery School is open from 9:00 to 3:00, Monday through Friday, beginning early in September through mid-June. Morning classes meet from 9:30 to 12:00.  The Extended Day Program includes an early drop off from 9:00 to 9:30 and a choice of a lunch bunch from12:00 to 12:45 or an afternoon program from 12:00 to 3:00.
Carmel Nursery School

Leslie Rupp, Nursery School director
100 Edge Hill Road
Glenside, PA 19038
215-886-7677 (nursery school) 215-887-1074 (church office direct line)
[email protected]