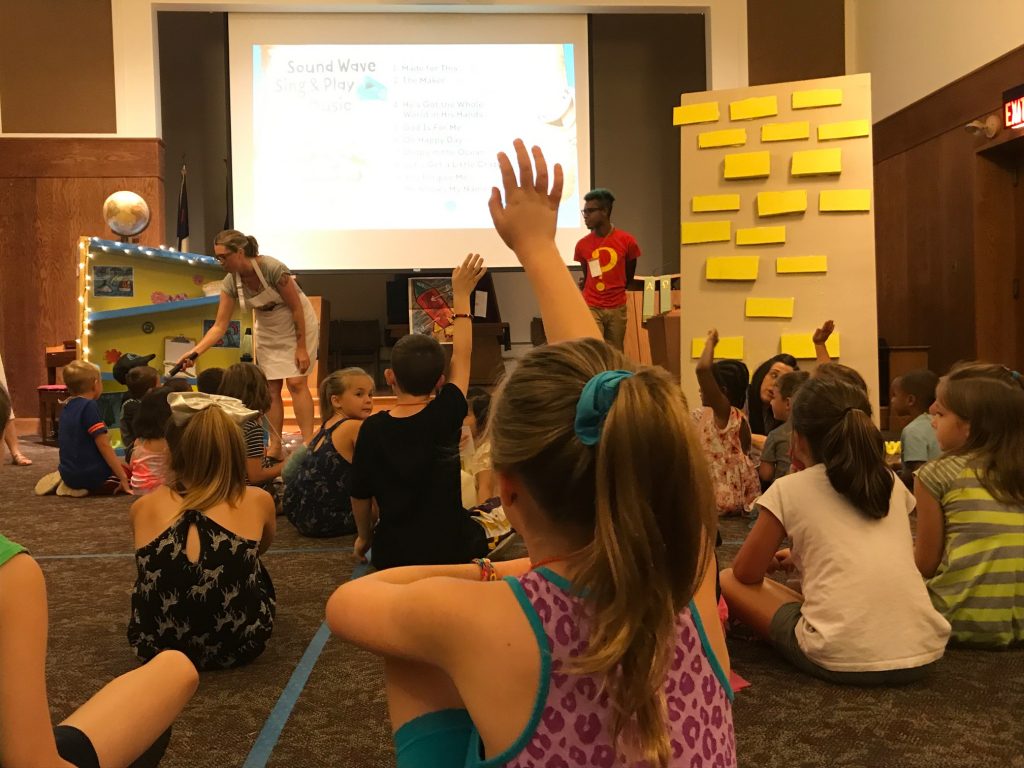 But when Jesus saw this, he … said to them, 'Let the little children come to me; do not stop them; for it is to such as these that the kingdom of God belongs. Mark 10:14
The Christian education of our children and youth is important to Carmel. We value children in our Carmel family and welcome their participation in the life of our church. There are a number of different ways in which we nurture the faith development of our children and youth.
Sunday Education Hour, 9:00-9:45 AM
In conjunction with scheduled adult classes of interest to their parents, we offer Nursery care for infants to age 3 and a "one-room schoolhouse" Kids Club for ages 4-grade 6. Kids Club includes a snack, Bible lesson and activities, and short gym time. Check the schedule with the Church Office.
Children's Story Time during 10:00 AM Worship
In a special time early in our service, children gather up front with a pastor for a short "story time" based on one of the day's scripture passages.
Children's Worship
Following Story Time, children from age 3 through grade 3 leave for Children's Worship activities, which include child-based worship activities, Bible lessons, crafts, and snack. Nursery care is offered during worship for infants to age 3 and also includes an age-appropriate lesson.
Refuge
Wednesday nights at Carmel from September through May offer children's and youth choir, a meal, and Refuge group activities for ages K-grade 12. Small groups offer Bible based lessons and discussion appropriate for each age group. A worship service in which they participate is also on the regular schedule. Wednesday nights at Carmel begin at 4:30 PM with Children's Choir, and end at 8:00 PM for grades 3-12. Wednesday nights at Carmel welcome children and youth from the community, as well as from Carmel. See the Refuge tab for more information.
Confirmation Class
Youth in 7th grade and up are eligible to participate in a Confirmation Class conducted by the pastors to prepare them to make a decision on becoming church members. A class is usually held every 1-2 years depending on the number of youth interested. The class also includes a trip/retreat to view various worship sites in Washington, D.C. Some time is spent outside of class with a mentor of the student's choosing. The current class began meeting in November, 2017 and will be publicly received as members on Pentecost Sunday, May 20.
Vacation Bible School
Carmel's Vacation Bible School welcomes children from the church and community from age 4 through grade 6. Junior and Senior Highs are welcome as volunteer assistants. VBS is usually held during the last full week of July from 6:30-8:30 PM. Activities include a Bible theme, music, games, snacks, crafts and "imagination station." Advance registration is encouraged and timely information provided on the website.
We always welcome new ideas and more volunteers to help with our Christian Education ministry. If you are interested, please contact our Children's Education Coordinator, Lisa Lent, our Nursery Coordinator, Marleen Heintz, or Elder Janet Simon, Chair of the Christian Education Committee. To get involved, please contact our church office at [email protected]