Give Us This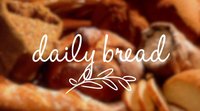 Day – Palm SATURDAY
We'd like to take this opportunity to highlight the date of the next Drive By event.
SATURDAY, March 27th 1pm-3pm
The Congregational Life committee is happy to learn so many are looking forward to this Carmel tradition. The response has been wonderful, a full month before our event. Keep your reservations coming!
Melissa Deacon
With raisins or Without
We are partnering with the Worship and Sacraments committee to make sure you have a loaf of bread for Holy Week and also a palm in time for live streaming worship the next day.
Carmel Folks Deliver. Figuratively BUT ALSO Literally. It's such a blessing to see our members respond with care and a heart open to serve.
Several members have reached out to say they'd be happy to deliver a bag to anyone that wouldn't be able to participate otherwise. Please add to your order a note requesting delivery if you'd like. We're very grateful to have such a caring Carmel family.
'Let us break bread……together.'