Palm/Passion Sunda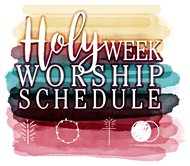 y, March 28, 10 AM 
Wave your palms from home as we worship live streamed on You Tube from the sanctuary. Anthem 'The Holy City' by tenor David Campbell.
Maundy Thursday, April 1, 7:30 PM  Service remembering Jesus' Last Supper with his disciples, live streamed on You Tube, with Communion. Hymns led by Evelyn Abraham.
Good Friday, April 2, 7:30 PM Tenebrae service, live streamed on You Tube. Music led by David Campbell and Deb Gates. Concludes with "Were You There When They Crucified My Lord," Deb Gates, soloist
Easter Sunday/Resurrection of the Lord, April 4
  8 AM  Early service, outdoors in the Memory Garden. In person, masked.
10 AM  Worship live streamed on You Tube from the sanctuary, with Communion.  Joyfully proclaiming the good news that Jesus Christ is risen! Praising God with special music: Mozart's "Alleluia from Exsultate, jubilate" by guest soloist Meg Vandegrift.  Also, "Alleluia Round," William Boyce, sung by trio Meg Vandegrift, Melissa Deacon and  David Campbell