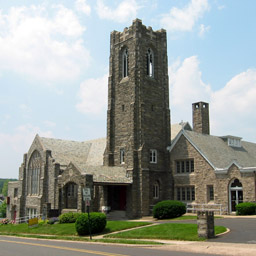 On Valentine's Day in 1882, the Carmel Presbyterian Church was founded to proclaim the gospel, celebrate the sacraments, share the good news around the world, and promote living life in the Spirit of Christ, our Lord.
Life in the Spirit of Christ is an all-encompassing response, a pilgrimage from birth to death, or more precisely, a marvelous journey from rebirth to eternal life.  The risen Christ calls and assists us to live in loving relationships, with joy and satisfactions, with gratitude and unceasing praise to God – individually and in community.
Life in the Spirit of Christ within community brings us into a formal relationship with Christ's Church.  This relationship is more than an idea, a single experience, or having your name on our membership roll.  It is a deep and sincere quest shared by many people that joins us to a tradition and a people where together we seek for a clearer understanding of God and the meaning of human life, resulting in a deeper connection with the Creator of all things.  As members of Carmel Presbyterian Church, that means we are traveling together, in song and prayer, in learning and service, toward that goal.
Carmel Presbyterian Church affirms and lives by a distinct historical and theological tradition:  we are "Reformed."  We do our common business together with other churches and governing bodies in a connectional way:  we are "Presbyterian."  We believe and affirm that we have gifts to give and are called to serve in the local community and in the whole world.  We do this without limitations on who will receive the manifestation of these gifts:  we are "ecumenical in caring."
Today, we continue down this path that started with our Lord's incarnation, and which came to a group of people who communed together on Edge Hill Road over 125 years ago.  We seek, above all, to be faithful to our calling, wherever the Spirit of Christ may lead us.